You'll stay in contact with your builder throughout the building process to make sure there are no unexpected surprises.

Our company can connect you with our network of preferred lenders, allowing you to choose the mortgage plan that's right for you.

Our agents will work with you to find the ideal location at one of the Valley's beautiful subdivision and or country living spaces.

Burlingame Construction will provide you with hundreds of options from the best manufacturers in the business.  This allows you to design and create your Elegant Energy Efficient Home the way you always dream.

Our service and support doesn't end when we hand you the keys.  Burlingame Construction provides you with a 1 year limited warranty, followed by a 2 year mechanical warranty, and a 10 year structure warranty to give you peace of mind as you settle in to your dream home.

Burlingame Construction LLC is proud to offer new homes that have earned the ENERGY STAR® label. The ENERGY STAR label means that your new home has been designed and built to standards well above other homes in the market today. It means better quality, better comfort, and better durability. It also means that your new home is a better value for today, and a better investment for tomorrow. The ENERGY STAR label gives you the peace of mind that your home has undergone a better process for inspections, testing, and verification to ensure that it meets strict requirements set by the U.S. Environmental Protection Agency (EPA).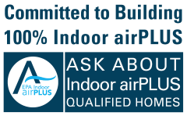 Every Indoor airPLUS home must first earn the ENERGY STAR Certified Home label, the trusted symbol of energy efficiency. ENERGY STAR certified homes are between 15% and 30% more energy efficient than code-built homes.  People are increasingly concerned about mold, radon, carbon monoxide, and toxic chemicals in their homes. Poor indoor air quality can lead to eye irritation, headaches, allergies, respiratory problems such as asthma, and other serious health problems. EPA studies show that levels of many indoor air pollutants can be two to five times higher than outdoor levels. And since most people spend close to 90% of their time indoors, keeping indoor pollution levels as low as possible is the right thing to do for you and your family.